Normally, if I make a promise, I keep it. I made a promise to the hubs when we bought our house. I promised him that I would not start a project and not finish.
I broke that promise into a thousand itty bitty pieces. The brick patio is not finished. The craft room is still in shambles. Whoopsie!
But he still humors me, and that's why I love him! I have two awesome finds to share with you.
First up is my new sewing desk. I went through a billion ideas. First I was going to make one. Then I was going to buy one new. Then I was going to buy one new and repaint it. Then... okay, you get the picture. We went to Animal Humane New Mexico run thrift shop, Re:Tail, and I found this gem for 20 bucks. If you're in the Albuquerque area, Re:Tail had its grand opening this past weekend in their new space. They are no longer next to the shelter but on Menaul past San Mateo. This thrills me because Savers is moving in across the street! So now Savers, Re:Tail and ThriftTown are all near each other! One stop thrifting is always nice!
I have to say, Re:Tail is an awesome thrift shop. Their prices are reasonable, the books are well organized and the staff is helpful. They offer delivery for a fee and they may help you load your car. Plus, you would be supporting a wonderful cause. We adopted our Ninja from AHNM and I'm currently an emergency foster for them.
ANYWAY, here's the dresser! It's super sturdy but covered in a very thin veneer. It's really just a paper type cover. I will be sanding it down, priming with Kilz primer and then painting it. I haven't decided on the paint color. I could go white but that would be boring. I'm thinking a light gray with some dark gray stenciling on the side. I can't wait to buy handles for it!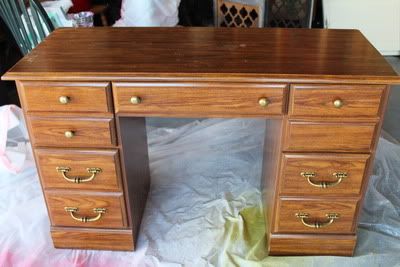 Now this is a story of thrifting karma or it's a thrift version of "if you love something let it go. If it comes back it's meant to be yours." I saw this bar cart/tv stand at Re:Tail months ago. It was 7 bucks. It had so much stuff on it and I didn't have time. I didn't buy it. I was kicking myself over it and never got past it. Fast forward to this past weekend. We were at Savers trying to find a desk and guess what I spotted? Yep, the same bar cart (okay, maybe not the same, but the same type). It was 10 bucks at Savers. Did I cry over the price increase? Nope! I rolled that sucker right up to the cash register! I'm unsure what I'll do with it. I just really wanted it. The cut outs are so cool!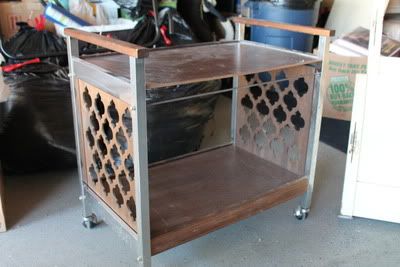 I won't say I've been lazy about getting stuff done. I have been working in the mornings getting the munchkin ready for school, cleaning and reorganizing... things like that. I needed some fun storage for the craft room, so I picked up all these metal pots and buckets from Target's dollar section. I painted them with chalkboard paint. Something I've noticed: regular Scotch blue painter's tape is absolute crap. It doesn't seal at all. As you can see, there was leakage, but it's easy to scrape away with a paint scraper. No big deal. :) Oh, and those light fixtures will also be going into the craft room. The white parts need another coat or two with some sanding in between... if I could just find my sandpaper...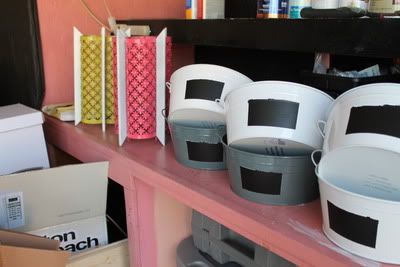 I'm also assisting the boss lady in planning a really special birthday party for my favorite munchkin. Expect to see some princessy goodness coming up. I hope everyone is doing well! I have to get some pictures of the strawberry plants I bought. One has a fatty berry coming up. I'm so excited! I haven't started my seeds yet, but it did snow yesterday so it's not like I'm some horrible person for not starting soon enough. Besides, it's the desert. We will have growing weather until September!