It was faster than we thought, but we bought a house! Okay, technically our offer was accepted, and we still have a way to go but we're almost 90% sure it will be ours! Let me tell you our whirlwind story. Get settled in now, okay?
About two weeks ago, we decided we were finally ready to start looking at homes. Todd's co-workers recommended a realtor, so we emailed her about a few listings on her website. The next day she called us and asked if we wanted to meet with her to discuss what we were looking for and when we wanted to buy, etc. We met with her on January 6th.
At the meeting, we mentioned that we received our preapproval letter from an online company. She dismissed them and gave us the number to her mortgage broker. We chatted about what we wanted, and she typed it in to her computer and up popped a listing that just came on the market that day. She asked if we wanted to see it and of course, being curious, we said yes.
This house was a cute 3 bedroom, 1.75 bath house in a nice, established neighborhood. It was a 1959 bungalow with a two car garage, eat-in kitchen, dining room and a charming fireplace. The backyard had a large covered patio plus plenty of grass for our dogs to tear up and poop on. It was a cute little house. I, of course, instantly fell in love with it. It needed updates, but we could easily live in it. Todd, on the other hand, wanted to look at other houses before making a decision.
We agreed to look at homes, and the next day which was the 7th, we met with the mortgage broker. This man is amazing! I have no credit. None. When I was younger I paid cash for school, my car, clothing, etc. I never had a credit account. He, miraculously, got me on the loan! Because he knew our realtor, he emailed her our prequalification letter and said we could finalize the loan after Todd got his two pay stubs this month. We left feeling certain that we could buy a house.
On Thursday, January 12th, we met with our realtor to look at houses that we had scouted (by scouted I mean we drove by them to make sure they weren't sitting next to a crack house or the freeway). The first house was decent, but small and only had a half bath in the master bedroom. I mean seriously, who does that?! The second house was a bank owned home that needed new carpet, but sat on a corner lot with a huge yard. It had potential but needed a lot and we weren't sure they would cover closing costs. We needed closing costs covered. The third house was absolutely frightening. We walked in and instantly said no. It was filthy (I mean FILTHY!), with a floor plan that made absolutely no sense. The ceiling had holes in it, the windows were drafty and it just screamed horror movie. We left and never looked back! The fourth house was really nice. It had a big kitchen, big backyard, hardwood floors, but only a 1 car garage and no laundry room. The fifth house was tiny and too expensive for the size, the sixth house was incredibly cheap, but the washer was in the kitchen and the dryer was in the garage and the backyard sat lower than the grocery store behind it... it was just weird. The seventh and final house was decent but had no garage (converted to an office), and the kitchen was so tiny that if you opened the fridge door, you blocked anyone from entering the kitchen. Surprisingly enough, we still considered it to be in third place because it had potential... if we could get it for cheap.
So at the end of the day, we went back to that first house. They had just put in the new carpet and we realized that this house was it. THIS was our perfect house. It was in need of some updating, but someone had owned it and loved it and cared for it. We put an offer in that night. We would pay listing price if they paid closing costs.
By Friday the 13th, the owners accepted our offer. As long as the appraisal, inspections and loan go well, we will be the owners of that home. We're lucky we put in an offer when we did. There has been non-stop inquiries on this house. Our realtor kept saying that if she had the disposable income, she would've bought it and rented it out. We got extremely lucky on this one!
And if you made it through the block of text, here are a few pictures of the place!
When you walk into the front door, you have the living room area to the left, and then there's dining room with a sliding glass door that leads to the backyard. Don't you just love that little build in bookshelf? So cute!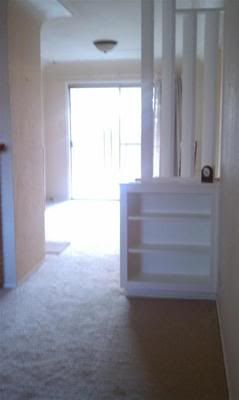 This it the living room space. The big window overlooks the Sandia Mountains. There's also a little covered patio in the front of the house.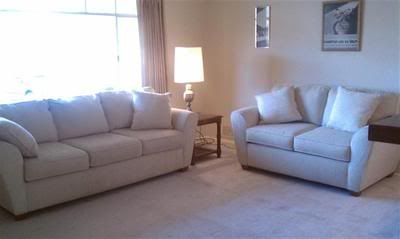 The kitchen is so retro that I just adore it! I think we'll be changing out the knobs, but sanding down and re-staining the doors and cabinetry. There is so much storage plus a pantry! I couldn't be more thrilled!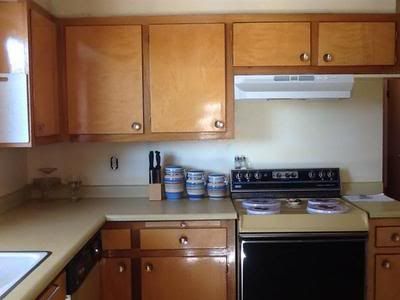 The laundry room is off the kitchen and has a door that leads to the backyard and a door to the garage. The goal is to eventually get new front loader washer and dryer and if they're low enough, put a counter over the top to have a folding space. No more walking outside to do my laundry!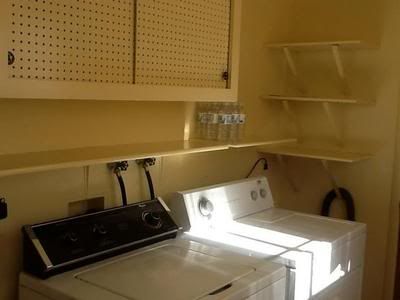 The guest bathroom needs some work. Behind that shower curtain lives bubble gum pink tile. I think, until we're ready to update that bathroom (the master shower needs it more because it's like a dark closet!), I want to paint that bathroom a deep aqua blue to offset the pink.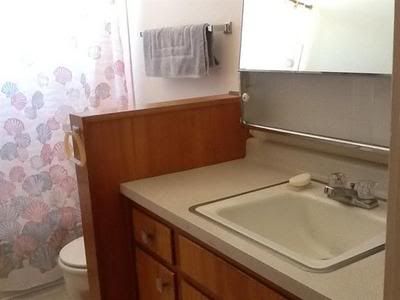 Those are all the pictures from the listing. Hopefully I can snap a few more when we go back during the appraisal. With a FHA loan, you need the house to appraise at or higher than listing price. So the house has to appraise for 130k or more. If not and we can't afford to pay the difference, we lose out. Let's all think "good appraisal" thoughts.